The Ultimate Guide To Choosing If Decra Roofing Is The Best Material For Your Roof
Replacing an old roof that leaks, is wearing out, or is just starting to look awful is a frustrating experience for any homeowner. 
And it's not just the thought of monetary investment you have to make in a new roof - it's also the drudgery of wading through roofing options only to feel dissatisfied with all of them. 
Asphalt shingles or wood shakes look great, but you know they won't last much more than twenty years. 
Metal roofing is durable, but a flat roof with ridges looks unappealing and commercial. 
At Graber Supply, we understand your frustration - we've been there before!
Life is already full enough of uncertainty, so we want to introduce you to Decra metal roofing! It may be the solution for you if you're looking for a durable, aesthetically pleasing roof. 
Want to learn more? Let's get started!
Decra roofing is a metal alternative to traditional asphalt or wooden shingles. 
However, Decra roofing isn't your traditional steel roofing system.  
Decra panels aren't the large metal panels commonly seen on barns, hangars, and factories. Those long metal sheets are likely corrugated metal or standing seam metal. 
Instead, Decra metal roofing comes in small rectangular panels - much like asphalt shingles. 
These panels are made of steel and can be stamped to replicate any roof style - shingles, shakes, tile, and more! 
The metal panels are coated with tiny stones to create a stunning stone-coated steel roof. 
Homeowners that use these stone-coated panels say their likeness to the material they replicate is impeccable - whether it's a mock tile roof or asphalt shingle look alike. 
How do they make Decra shingles look so great? Let's find out! 
How Are Decra Shingles Made? 
All Decra roofing products begin with a piece of steel that is coated with an aluminum-zinc alloy. This precise alloy formula gives Decra steel a lifespan of up to 4 times of traditional galvanized steel! 
Then, a state-of-the-art acrylic resin is applied to both sides of the coated steel. The brown-tint resin is specially formulated to resist fingerprints and scuffing during product handling, 
Next, another layer of durable acrylic resin is applied. This acts as a base coat adhesive for the next layer of Decra shingles: the stone granules. 
The stone granules are finally applied to the coated steel sheets and suddenly the Decra panels take on a whole new look - popping with distinctive colors and textures! 
Lastly, an overglaze is applied to the stone granules to keep them from wearing away during the handling process or everyday use. 
All that's left is molding and stamping the steel sheets in decorative panels that replicate tile, shingles, or shakes! 
Cost Of A Decra Metal Roof
With all the technology and care that goes into creating Decra steel, you may reasonably assume that buying the panels for your roof is preposterously expensive.  
However, stone-coated steel roofs are reasonably priced. Here is a quick comparison of the cost of Decra roofing compared to other metal roofing materials (including installation):
Corrugated metal: $4-$6 per square foot
Standing seam metal: $9-$13 per square foot
Decra roofing: $8-$13 per square foot
As you can see, stone-coated steel roofing and standing seam metal roofing are similar in price. When you consider the aesthetic quality of stone-coated metal, this seems like a steal of a deal! 
And in comparison to other roofing materials, the price looks even better. 
The average of clay roof tiles is between $10-$18 per square foot, and classic tile roofs range between $12.50 - $25 per square foot in price.
Just be aware that numerous factors can affect the price of a new roof. 
For example: 
The style of metal shingle, panel thickness, installation method, and roof pitch all affect a roof's cost.
We encourage you to get estimates for a new roof from several roofing contractors in your area. This helps you get the most accurate idea of what your new roof should cost. 
Online cost estimators are also a nice tool to use, but keep in mind that they fail to consider the cost of trim, underlayment, fasteners, and other accessories, so their cost estimates can be inaccurately low.
Decra Roofing Styles
There are five types of Decra roofing panels: 
Choose whichever style you like, pair it with a color of your choosing, and you have a beautiful, durable roof! 
7 Advantages Of Decra Roofing
Now that we understand what Decra Roofing is, let's take a look at some of the ways it can benefit you! 
1 - Lower Your Insurance
You may be wondering how it is possible that stamped pieces of steel screwed to a roof can drop the insurance you pay! 
It's actually pretty simple: 
Stone-coated metal shingles are a Class-A Rated roofing material, which means they are non-combustible.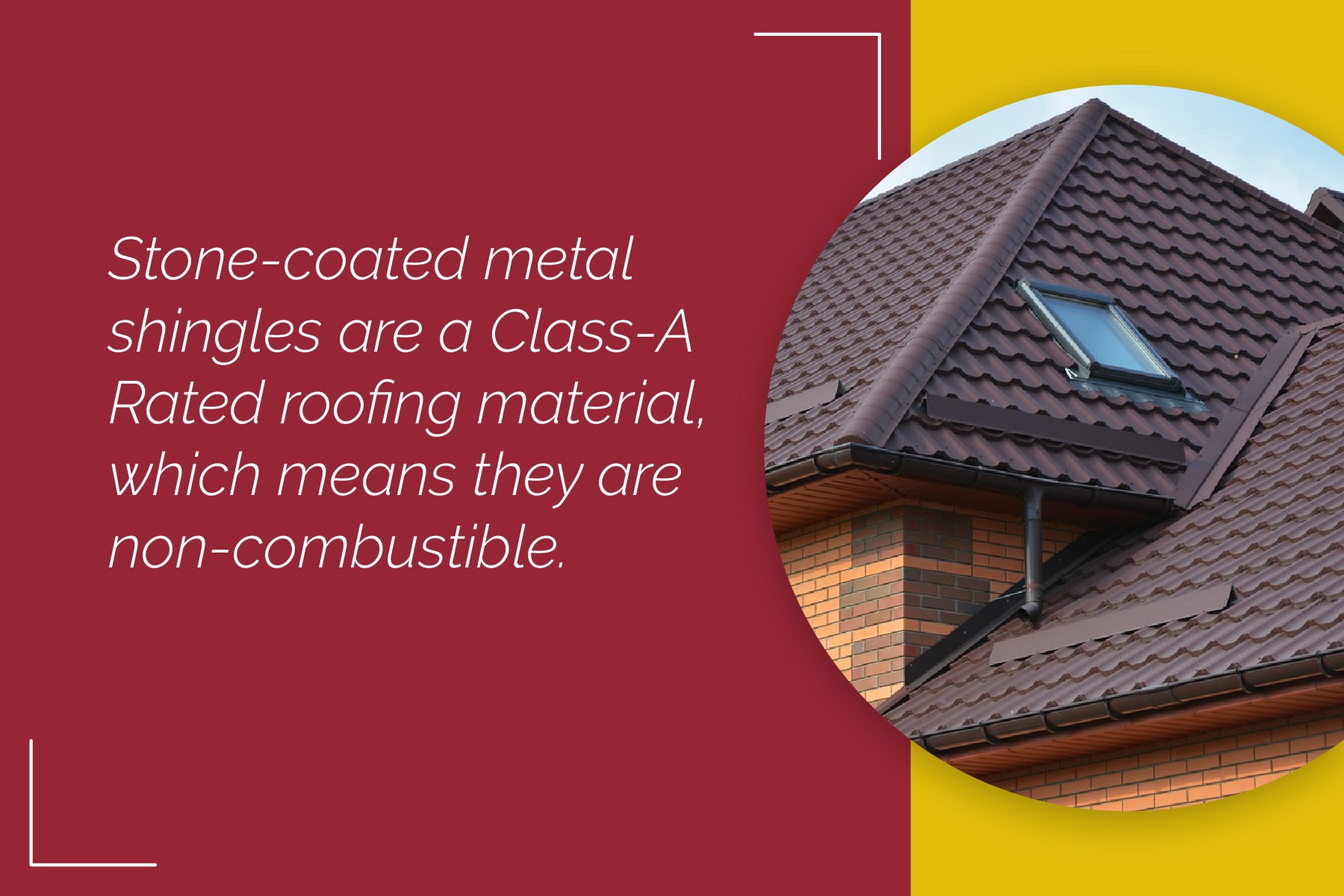 Since stone-coated metal shingles are fire resistant, they aid in lowering home insurance. Just check your insurance policy to see what kind of savings you might get. 
2 - Increase Your Home Value and Curb Appeal
Did you know that your roof can account for up to 40% of your home's visual exterior? 
That means anyone visiting your home - whether they are potential buyers or friends stopping in to visit, will definitely notice your roof. Not only that, your roof is probably one of the first things they will notice! 
Think it's not a big deal? We certainly do!
It's proven that humans are affected by the halo effect - a term that describes giving positive attributes to someone or something based on a first impression. 
So, when someone pulls in your driveway and thinks, "Wow, what a beautiful house!" they will tend to think positively about the rest of your home as well. 
And while you may not plan on selling your home anytime soon, investments that increase the value of your home are priceless!
PRO TIP: Want to take the exterior of your house to the next level? Windows and doors are key to a beautiful exterior. You can read our blog on both windows and doors below: 
3 - Keep Your House Cooler
The most significant factors in heating and cooling your home is proper ventilation and attic insulation - not the roofing material. 
However, when properly installed, Decra metal roofing does reduce attic temperatures. For example, attic temperatures in a home with asphalt shingles can reach 150 degrees, while stone-coated steel usually keeps temperatures to 90 degrees or less.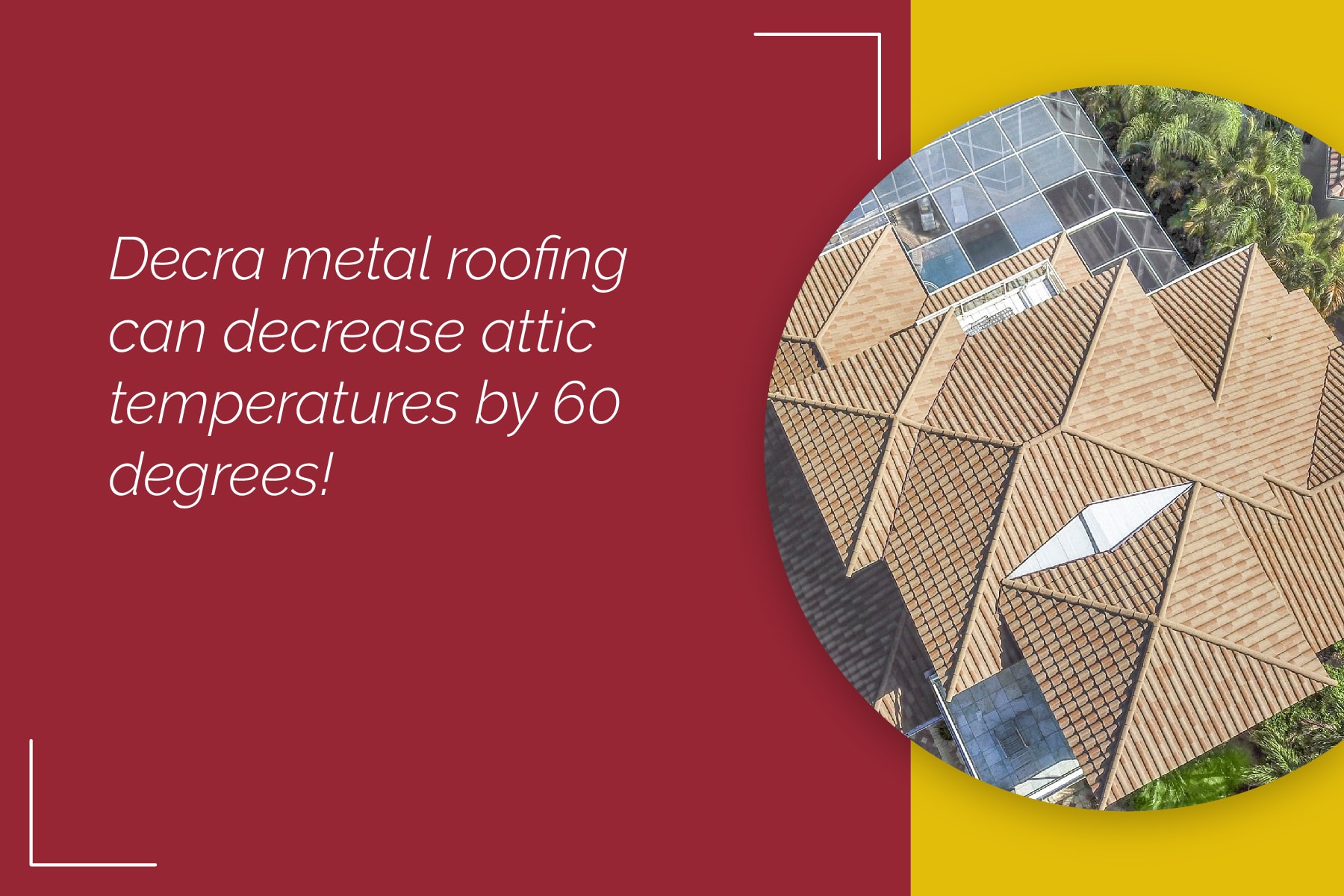 Of course, when the temperature in your attic isn't always fluctuating, you can be much more efficient in heating and cooling your home. 
Beyond that, regulated temperatures allow your roof deck and roofing materials to last longer. 
4 - Environmentally Friendly
Metal roofing is climate-friendly at the beginning and the end of its life. 
Decra products are manufactured using 25-30% recycled material - all while avoiding strain on old-growth timber and oil-based raw materials. Plus, when it's time to tear them off, they are 100% recyclable. 
Beyond that, Decra products last much longer than other roofing products like asphalt shingles. That means it helps preserve materials because it wastes fewer materials.  
In fact, Decra products contribute significantly to LEED projects, and Decra is a member of the US Green Building Council (USGBC). 
5 - Aesthetically Pleasing   
Humans care deeply about how things look. 
Maybe that's why the beauty and personal care market is valued at about 85.06 billion dollars in the U.S alone! 
It makes sense that you would want a home that is more than just functional. After all, "home" is more than a place to stay dry. 
A home is a place to make memories as a family, to be proud of, and to host others. You should love being in your home.  
Thankfully, with the stunning aesthetics of Decra metal roofing, you can be proud of the appearance of your home. 
No matter which style you choose, you'll get a traditional style and elegance from the colorful stone-coated metal sheets. Just visit this website to browse through a Decra catalog and get an idea of the possibilities for your home!  
6 - Resists The Elements
Wind, rain, hail, snow, and even dry sunny climates all take their toll on conventional roofing materials. 
The heaviest architectural shingles are typically rated for wind resistance between just 60-110 mph. Clay tile and wood shakes are so prone to wind damage that they aren't rated at all, and even fiber cement products are only rated up to 75mph.
On the other hand, Decra stone-coated steel is one of the most durable and element-resistant roofing materials available. 
Here are the specs on a Decra roof: 
Wind: Warrantied up to 120 mph

Hail:

Class 4 Impact Resistance

(highest rating)

Fire: Non-combustible Class A Fire Rated Material (highest rating)

Snow & Ice: Non-porous, freeze and thaw resistant
7 - Lightweight
Per square foot, metal roofs are much lighter than shingles. This puts less strain on the structural integrity of your home.
It also means that re-roofing on top of the old roofing material is viable. 
Installing new roofing products over the old materials allows you to save the labor costs to tear off the old roof - so you can cut down on the cost of your roofing project. 
Putting new roofing material directly on the old roof is sometimes not an option with materials like asphalt shingles or tile because the weight of the materials is too great for the roof deck. 
One of two things has to happen: 
The old roofing material comes off

Structural components are added to the roof system to create greater strength
3 Disadvantages Of Decra Roofing
Stone-coated metal roofing is a fantastic product - but it's not for everyone. Let's take a look at a few things you should consider before investing in a Decra roof. 
1 - Greater Initial Cost
We already compared the cost of stone-coated steel with other roofing materials earlier in this article. 
And while Decra metal roofing isn't the most expensive option available, it's also not the cheapest. 
If remaining within a limited budget is your highest priority, you should consider asphalt shingles or corrugated metal over Decra roofing.  
Of course, the long life span and practically nonexistent maintenance cost of stone-coated steel could save you money over time. But that is only if you are playing the long game. 
You need to decide how much you're able to spend upfront and weigh your initial cost against your expected long-term savings when making your choice. 
2 - Not DIY Friendly
Decra roofing is not a good option for those that love to work with their hands and save money with their handyman skills.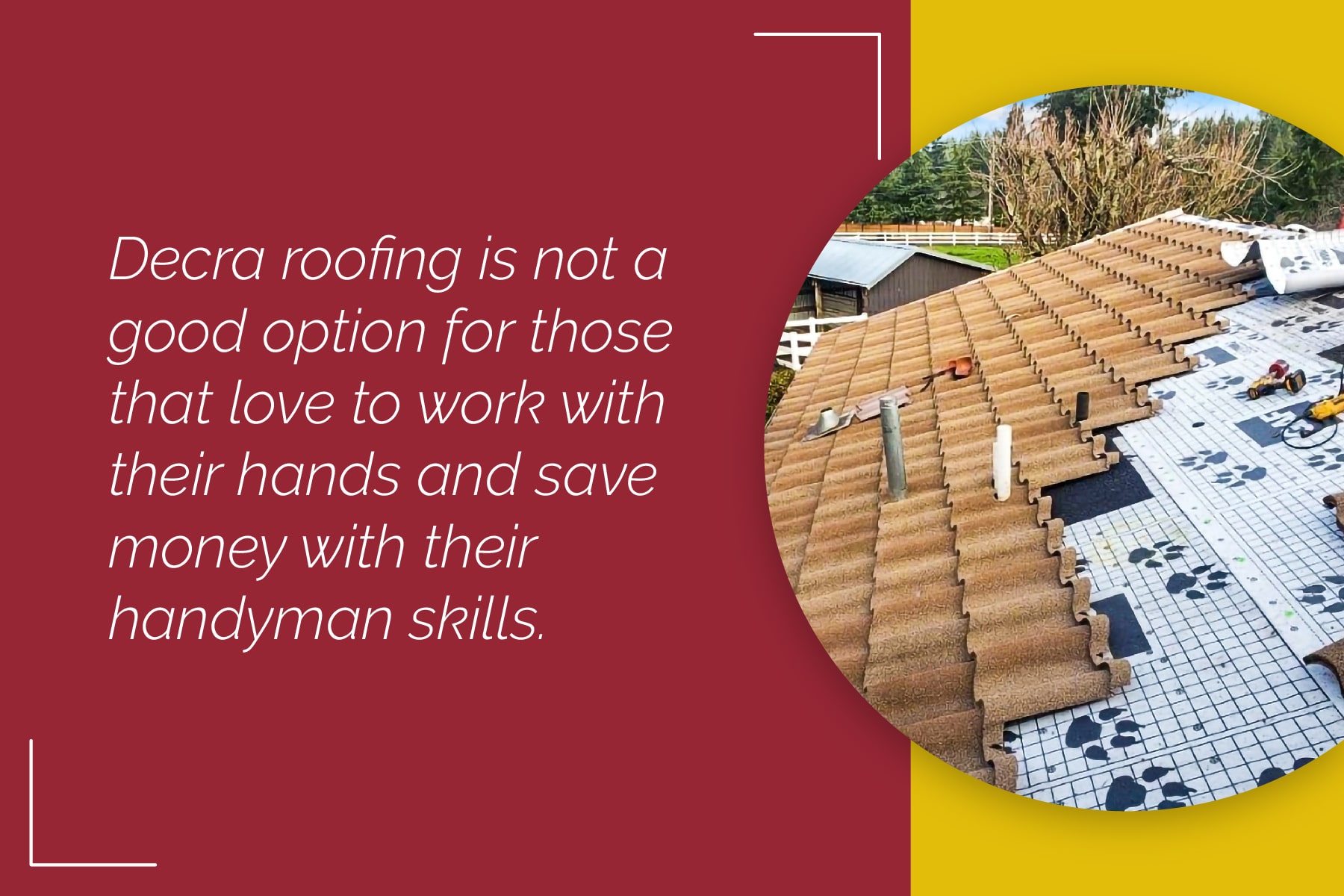 While laying shingles or screwing corrugated metal down is straightforward, installing Decra roofing is no small task! 
You'll need special cutting and bending tools, as well as plenty of knowledge on installing battens and waterproofing roofs. 
Installation guides are available - but unless you are a roofing contractor, we'd let them go unread and hire a professional! 
3 - Increased Noise 
Depending on how a steel roof is installed, it may be loud when it rains or hails (though this is minimal). 
However, during the installation process, you can place special materials like a solid sheathed roof deck to act as a barrier between the roof and your home to deaden the sound. You can also take other steps, such as adding attic insulation, that reduce roof noise. 
Again, your budget plays in significantly here.  
Do you have the budget to cover a quality roof deck or attic insulation? If so, you're good to go. If not, you should be prepared for some minor noise during hard rain or hailstorms. The upside is that some people actually like the soothing white noise of rain on their roofs. 
After weighing all the pros and cons of Decra roofing, you are left with the million-dollar question: "Is it for me?" 
In the end, you're the only one that can answer this question, but here's what we would suggest: 
Before you make a final decision on a roofing material, make sure you know exactly what is most important to you. 
Is beauty most important? If so, options like real tile, slate, or wood shakes are great ideas. Decra roofing is also a good option since it is known for its aesthetic qualities and comes at a bit of a lower price.  
Is durability most important? Standing seam and Decra metal roofs are both top-of-the-line options when it comes to durable, low-maintenance roofs. 
Is the upfront cost most important? If you need a new roof, but don't have money to make a long-term investment, asphalt shingles or corrugated metal are the best options. 
Is a wise long-term investment most important? If so, Decra metal roofing may be your best option!
Here's the thing: 
While it's essential to know what is most important to you, don't emphasize beauty, budget, or durability to the exclusion of the other categories.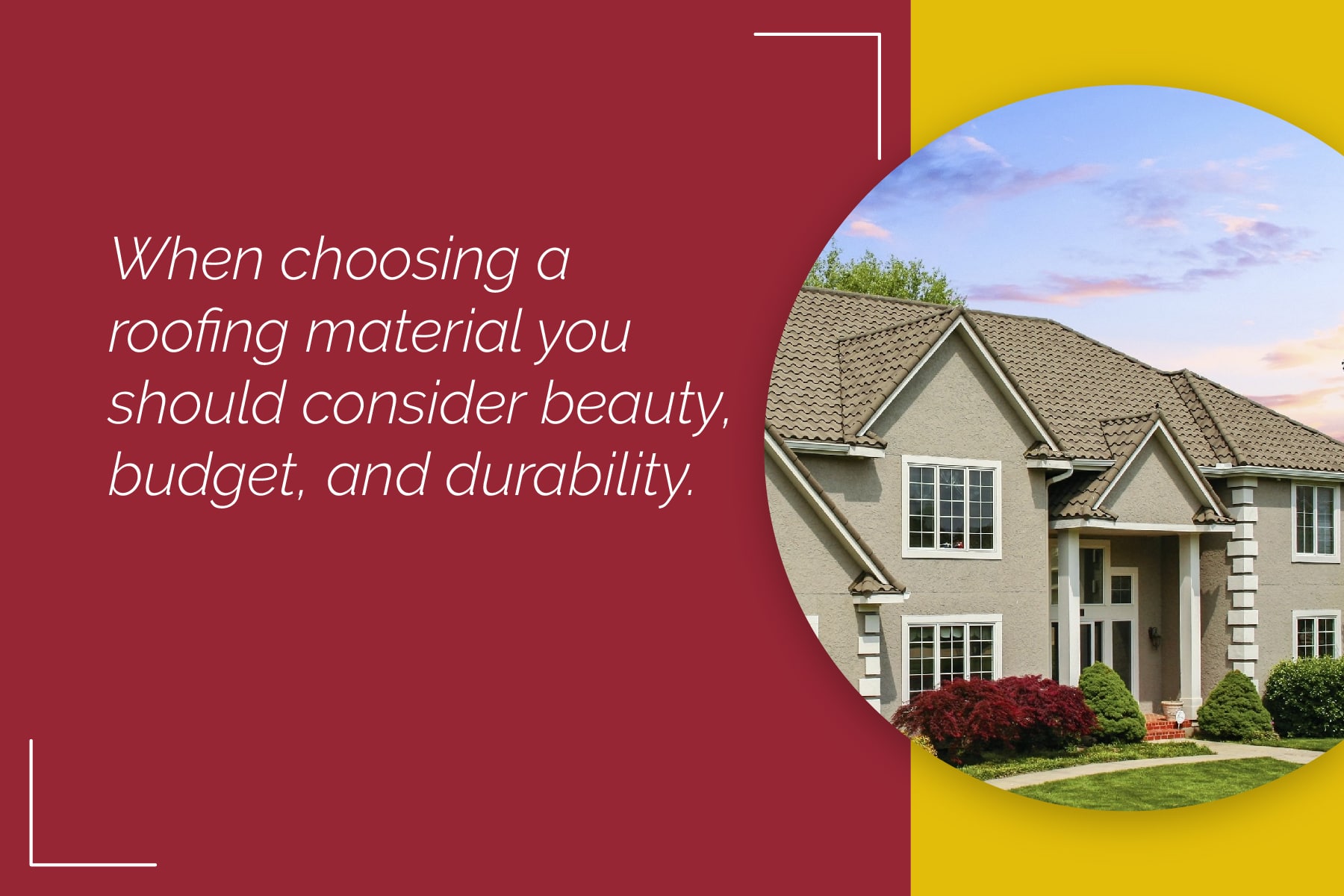 The roofing system that checks the most boxes is probably the best one for you. 
And while our opinion is a bit biased, Decra metal roofing most often checks the most boxes for those who need a new roof.