6 Steps To Choosing The Perfect Kitchen Cabinet
Your kitchen is the hub of your home. It's where you make some of your best memories, like sneaking a bit of mom's cookie dough or pouring a steaming cup of freshly brewed coffee. 
Between cooking, baking, eating, and socializing, you spend a lot of time in your kitchen, so it should be a space you love. 
But have you ever walked into your kitchen and found yourself disliking what you see?
Maybe there's not enough storage, or the layout is awkward, or it's just plain ugly!
At Graber Supply, we want to help you create a kitchen that's both beautiful and efficient—a place where you'll love to spend time. And we know that sometimes, transforming your kitchen can be as simple as updating your kitchen cabinets.
After all, cabinets are often the largest and most significant piece of furniture in a kitchen, so they have a huge effect on how a kitchen feels.
Cabinets keep our kitchens clean and organized, which makes them inviting and beautiful. Imagine a kitchen without cabinets—the kitchen table, counters, and maybe even the floor would be in complete chaos! 
Each person has unique needs when it comes to cabinets, so cabinets can't be made with a cookie-cutter approach. While one person might want large cabinets to hold all their pots and pans, another person might opt for small open-faced cabinets to display their chinaware. 
If you walk into your kitchen and don't like what you see, or if your kitchen cabinets don't meet your customized needs, maybe it's time to think about picking out some new cabinets. 
While planning a new kitchen is exciting, it carries a lot of trepidation with it as well. But don't worry, that's why we are here!
If you're looking for help in choosing the perfect cabinet for your kitchen remodel, you've come to the right place. Just keep reading!
Setting a Budget for Kitchen Cabinets
The first step when updating your cabinets is to consider your budget.
We've all been sucked into making purchases we didn't carefully consider and probably felt the consequences. Knowing what you can safely spend before you buy is always a good idea. 
The style, color, size, type of wood, and other factors influence the cost of cabinets, so settle on your budget before you get too far and try to stick with it. 
If you're wondering what your budget should be, consider these numbers. Kitchens range widely from $100 to $1,200 per linear foot. A typical 10 by 10-foot kitchen would run anywhere from $2,000 to $24,000, though most fall in the range of $4,000 to $13,000. The same math applies if your kitchen is larger or smaller than 10 by 10. 
If you're looking for a quote for kitchen cabinets in Northern Indiana, contact Graber Supply, and we can give you a customized quote for review.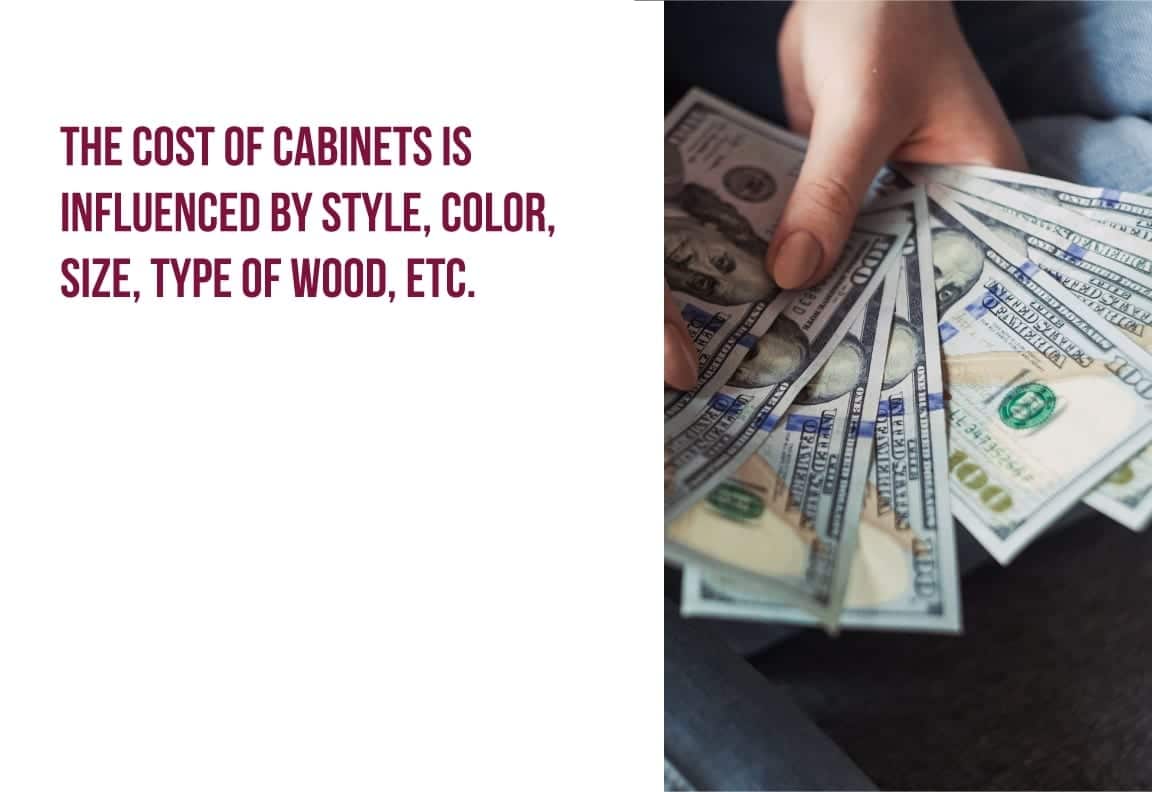 Choosing the Right Style of Kitchen Cabinet
The second step to take is to consider the style of cabinet you want. The first thing you should do is choose your door profile. There are lots of different cabinet styles to choose from. 
The most common door profiles include: 
Flat panel doors: The center panel of the flat panel door is flat rather than raised or contoured. These doors fit traditional, transitional, and contemporary styles.

Raised Panel Doors:

The center panel of the raised panel door is raised with a profile or contour. They work well in traditional or transitional design schemes.

Recessed Panel Doors:

On recessed panel doors, the center panel is slightly depressed.
Slab Doors: This door style is a solid door with no frame or panel. This minimalist style is mostly in transitional, contemporary, or modern designs.
Overall, your cabinet doors should complement the rest of your home decor and match the overall aesthetic.
Choosing Paints & Stains for Kitchen Cabinets
Once you've chosen the door profile you prefer and made sure your new cabinets will fit the style of your house, it's time to pick out paint or stain. 
When you're choosing paint or stain, many of the same principles apply in selecting a cabinet style. Make sure you're choosing something that fits the style of your home. 
While you're at it, you may be interested in updating other doors in your home so that everything fits together cohesively. If so, read our blog post about choosing the right home entry door!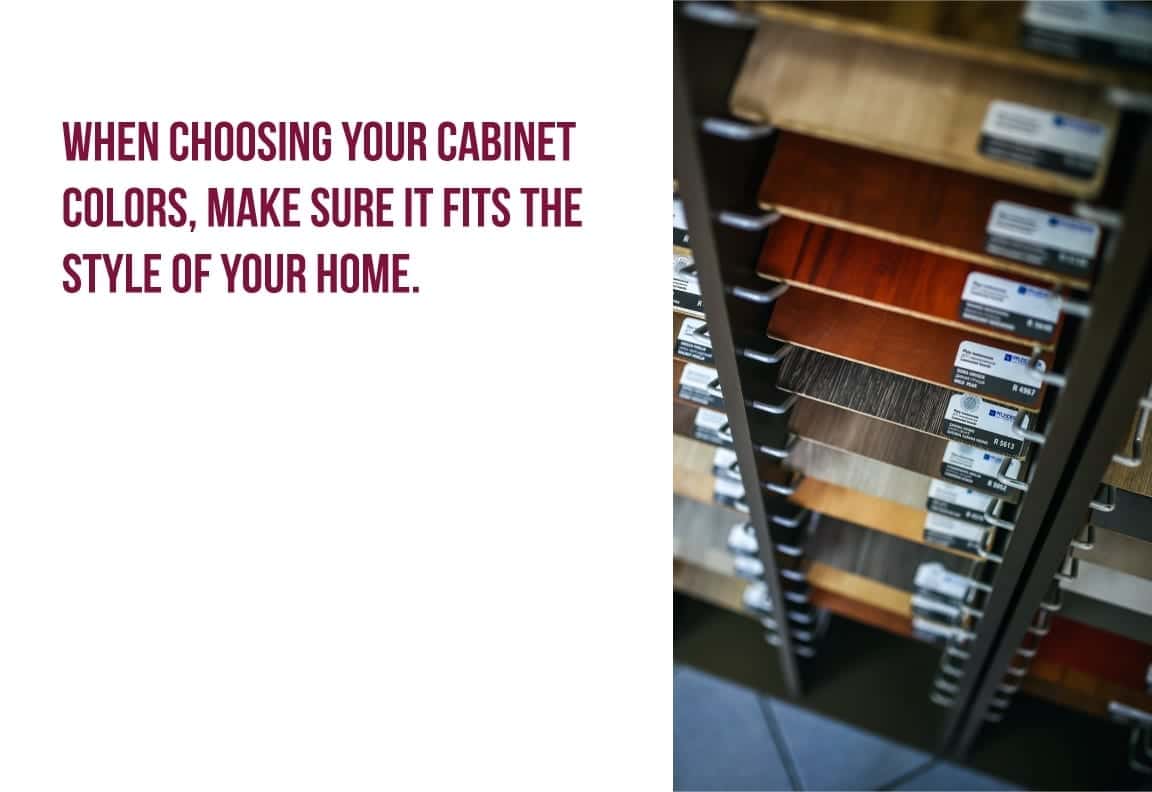 There are so many beautiful colors to choose from! Here are a few tips to save you from banging your head in frustration. 
White is a timeless color and looks great in cottage, traditional-style, and modern kitchens. Two-tone kitchens create a nice contrast to add a little creative flare to the space. Dark cabinets with light countertops or light cabinets with very dark countertops are on-trend. 
Opting for light upper cabinets contrasted with dark lower cabinets is also a great look and helps make the kitchen look larger. 
Bright colors can be trendy and fun, but remember that you may get tired of them after a while. 
When you choose your paint and stain, borrowing other people's ideas is okay! We recommend doing ample research online and finding many pictures of a color you like. Visiting a cabinet showroom is another excellent way to get some inspiration. You'll find many ideas in a showroom, and cabinet makers are usually very knowledgeable when answering your questions. 
If you're interested in knowing more about home remodeling in general, read our blog on what to do before starting a home renovation project.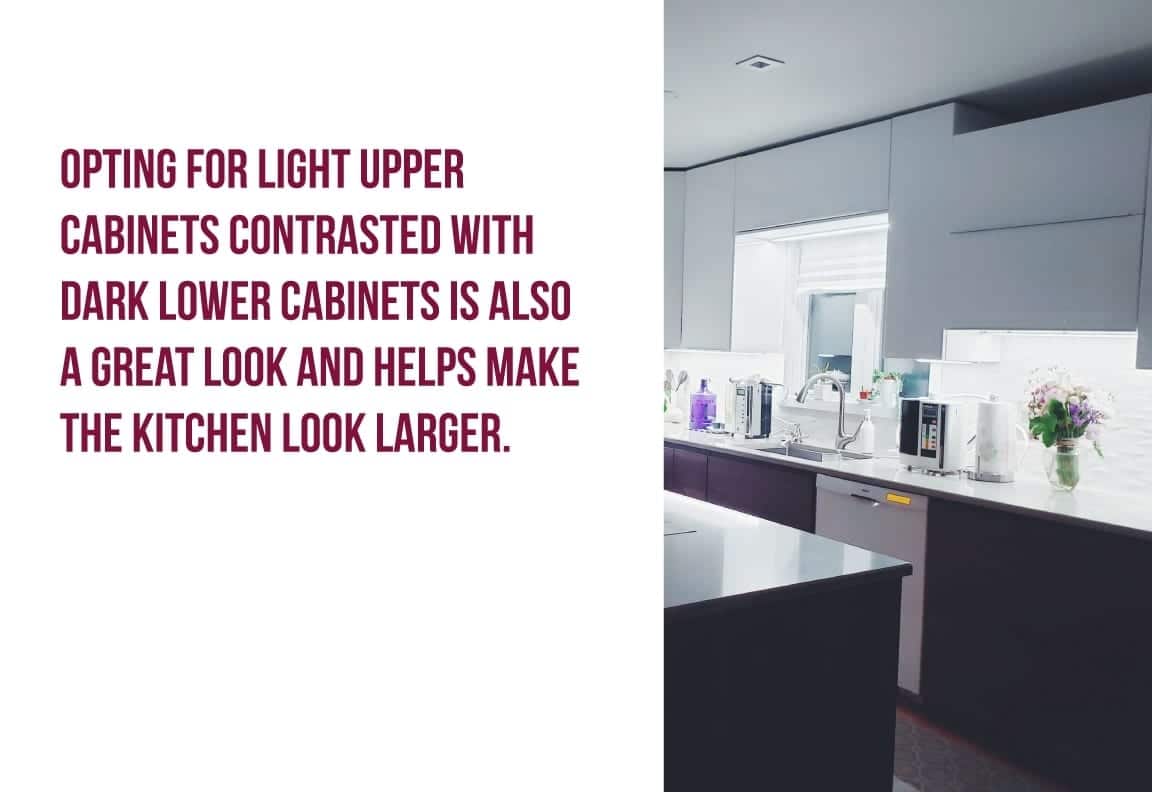 Picking the Right Size Cabinet
Choosing the right size of cabinets is just as important as choosing the right color. 
The typical size for a base cabinet without a countertop is 34.5 inches high. The width of standard base cabinets will come in multiples of threes between 9 and 42 inches, and the standard depth of base cabinets is 24 inches. 
For wall cabinets, the height is usually available in 30", 36", and 42." 
A standard wall cabinet will vary in multiples of threes between 12" and 36", usually with a depth of 12" or 24". 
Clearly, the options vary when it comes to cabinet size. Although these are standard sizes, most cabinet makers are willing to make cabinets in custom sizes, so ensure you're ready to express what you want. 
If you are happy with your current kitchen size, replicate them and add a cabinet or two if you need more space.
If you know some items don't fit in your current cabinets that you want to store, it's a good idea to measure those items and make your cabinets at least an inch larger than your hard-to-store items. 
When deciding on the size of your cabinets, make sure you don't make them just big enough to stuff everything you need to store. Remember to consider organization, accessibility, and functionality. A cabinet that is 36" deep could store a lot of items, but the materials at the back of the cabinet would be challenging to access.
Spotting the Signs of Quality Cabinets
You use your kitchen cabinets daily, so investing in quality cabinets is well worth the money! 
What should you look for when you're trying to find a cabinet maker who does quality work? 
Consider the wood
Your cabinet material is essential because it plays a crucial role in the durability, longevity, and quality of service the cabinets provide. 
Plywood is considered the premium option for cabinet boxes (other than solid wood used on the face frame). It's a strong material, and solid-core plywood employs several layers of wood plies or veneers oriented at varying angles for stability and rigidity. Virtually all cabinet makers offer plywood as their upgrade or top-line cabinet box material over particle board or MDF. 
Particle board is widely used to make cabinet boxes and other components. It's covered with a melamine, wood veneer, or vinyl laminate layer. Its drawback, however, is that water and other liquids may damage it. Particle board may also give off formaldehyde vapors based on the adhesives' constituents to bond the wood particles. 
MDF is another engineered wood product made from pressed and bonded wood fibers. Like particleboard, it's susceptible to water damage and very heavy, adding to the overall weight that's suspended from the hanging rails on the back of the cabinet. 
In general, a combination of plywood and solid wood is the highest quality option for cabinets. This combo is both durable and easy to repair if the cabinets get scratched or nicked.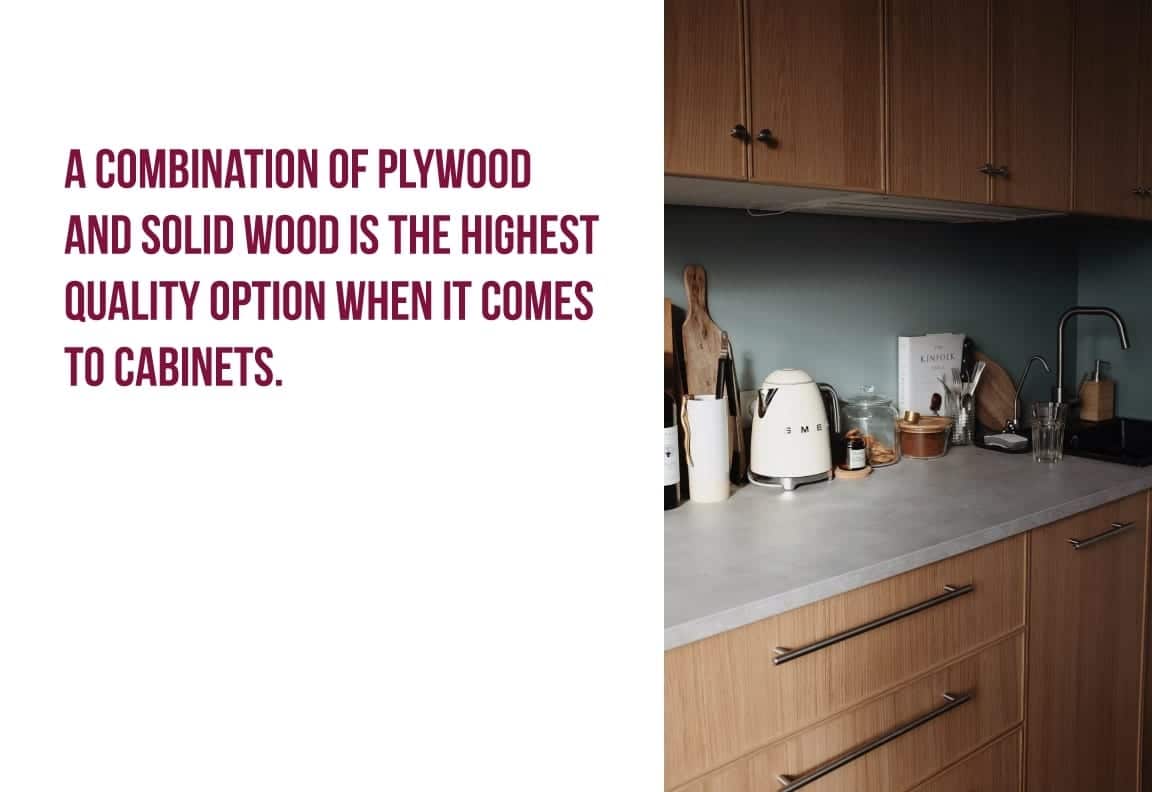 Look at the drawers
Good drawers will have quality joinery and solid fastening systems. A cheap drawer is often stapled together. You may also notice some sloppy glue and scratch marks from the manufacturer on cheap drawers. These are all signs of a low-quality kitchen cabinet. 
Ask about the hardware
A good drawer has roller slides, rollers and tracks, or ball-bearing extenders. Cheaper drawers open and close on a plastic runner system. 
The hinges on the cabinet doors should be adjustable in all directions. Also, soft-close hinges are a great option that saves a ton of wear and tear on the cabinets and spares you the headache of banging cabinets! 
There are plenty more options for determining the quality of cabinets, but doing a quick check on these three factors takes a long way in determining the quality of kitchen cabinets.
Note: In some cases, you may find that even after updating the cabinets and hardware, your kitchen doesn't quite look right, and you need a new countertop to pull it all together.
Choosing the Right Kitchen Cabinet Maker
The most important thing to do when installing new kitchen cabinets is to find a good cabinet maker. A good cabinet maker will educate you throughout the process and deliver a high-quality product. 
We've all spent hours researching something online and making no progress, only to have a knowledgeable friend help us in a few minutes. Well, choosing suitable cabinets is no different. A good builder is much more helpful than Google! 
At Graber Supply, we walk with customers from the beginning to the end of the cabinet purchasing process. We want to help you with your project! 
If you're a homeowner in Northern Indiana looking for cabinets made from solid wood, constructed with high-quality craftsmanship, and completely customizable, contact us today! 
We also offer other beautiful home products such as:
DECRA roofing
And much more!