9 Things You Must Do Before Remodeling Your Home
Embarking on a home renovation or remodel triggers a cascade of emotions.
As a homeowner, you feel excited about the coming improvements, but sometimes a sense of uneasiness accompanies the process. Home remodeling requires money, time, knowing what you want, and finding a great contractor to help with the process and all that is overwhelming!
At Graber Supply, we want to make your home renovation easier. We have years of experience providing products like doors and countertops for remodelers, and we'd like to walk you through the things you should do before remodeling your home.
When you are finished reading this article, you will have a better understanding of what to do to make your home renovation a success!
Alright, let's get started! You can click the specific chapter you want, read through the whole article, or go straight to the infographic at the end.
Know What You Want In Your Home Remodel
What are your home renovation goals? What do you hope to accomplish in your remodel?
For example, if you are remodeling your bathroom, do you want it to be kid-friendly for your future family or wheelchair accessible for when you and your spouse grow older? 
You don't need to have all the exact details figured out, but you want a good idea of why you are remodeling. 
If you live with other family members, it is good to get their input and ideas as well.
What is the best way to determine your goals?
Start by making a list of everything you want when you are done remodeling your home.  
If you need ideas in this dreaming stage, you can find plenty of ideas on realtor websites, home improvement magazines, Pinterest, and any other homeowner's source.
Don't hesitate to dream big during this stage!  You are spending money on a home project, so go ahead and make it yours.
Depending on your budget, however, you may need to remove some of your dream features or do the project in stages. This brings us to your renovation budget.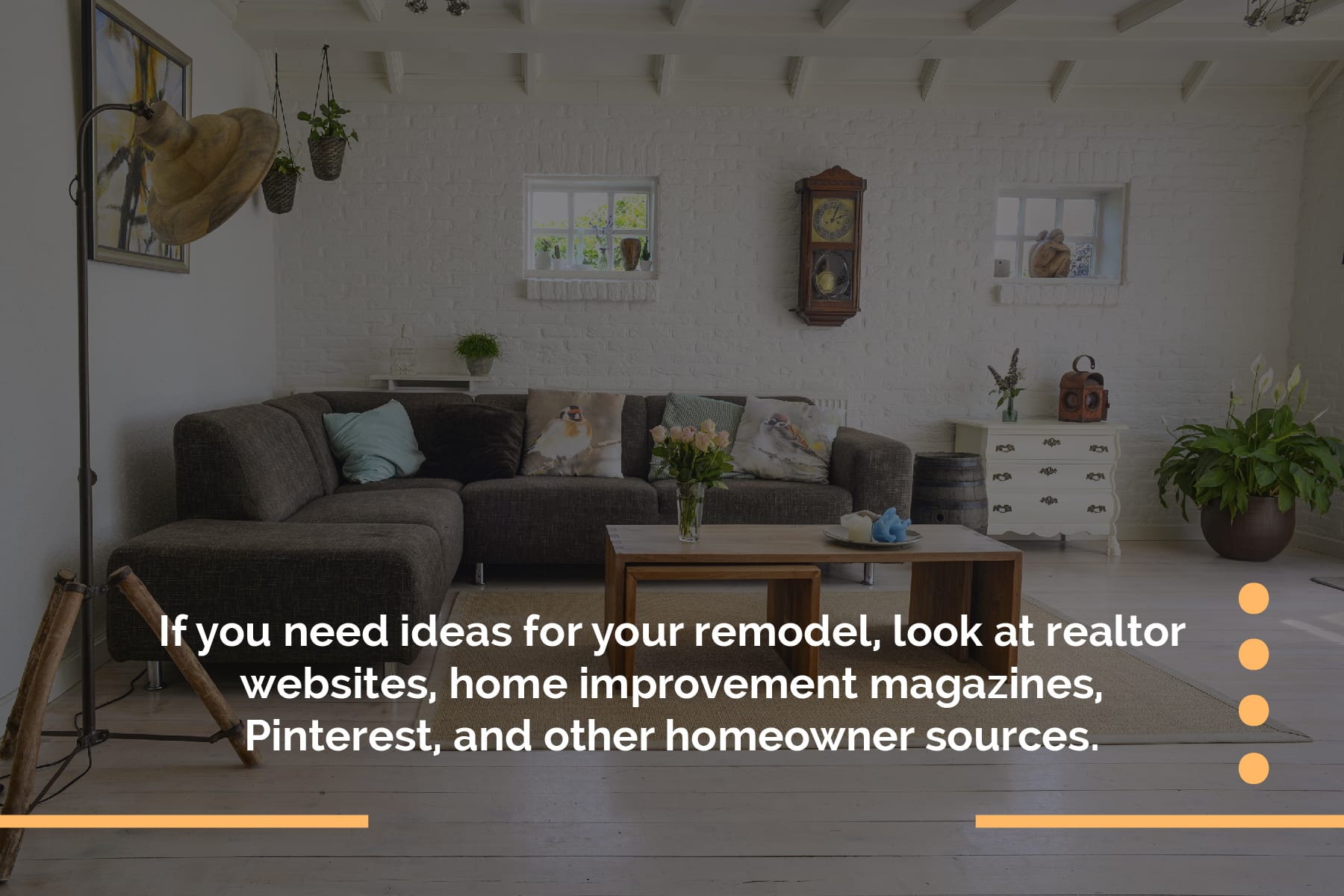 Figure Out Your Renovation Budget
Home renovation typically costs a lot, which may make you nervous.
That's why it's important to take a close look at your finances, create a budget, and stick to it.
During the project, you will probably be tempted to increase your remodeling budget. An upgraded TV, a larger bedroom, or other tantalizing options may pop up as you go along. 
Now, some remodels increase the home's value, allowing you to recoup that money when you sell your home.
But be careful - this is not always true!  
For example, if you spend a lot of your remodeling budget on expensive extras and upgrades, it doesn't always increase the home's value by the spent amount.  Even installing energy-efficient windows, one of the best upgrades you can do to your home, will see an average return of 81% of your money. That is not 100%. You're still losing a little money overall. 
And some upgrades just aren't worth their salt. Examples of common upgrades that don't offer any ROI are technology upgrades that become outdated in a few years or expensive flooring and other materials that quickly become outdated and lose their value. 
Remember—going over your set budget is not wise!  It can result in bad debt, expensive features you don't need, and other financial hardships. A budget doesn't do you much good if you ignore it! 
Your core remodeling should be around things that increase your home's value - increasing the number of bedrooms, adding living space, updating critical components like windows and doors, and increasing your home's functionality.
Do A Reality Check On Your Home Remodeling Plans
Before you purchase your home supplies or decide on a contractor, make sure you do a reality check on your project.
Here are a few things to ask yourself and think about before moving forward:
Does your project meet your goals for the home remodel?

Are the other family members on board with this project? They need to live with it too!

Is the project within your family's budget?

Since many home projects go over budget, do you have some extra financial cushion if necessary?

Does the renovation increase your home's value, or does it contain a lot of unnecessary extras and upgrades?

Do you have a realistic timeline for the project?  Many projects estimated to "only take a weekend (or a week)" end up taking much more time than projected!
Reality checks can feel like a frustrating road block. 
But if you take the time to answer the above questions, you can save yourself a lot of potential stress or financial problems in the future, so do yourself a favor and answer them honestly.
Hiring A Trustworthy Contractor
One way to save money on your remodel is to tackle some smaller projects—like painting—yourself.
However, it's easy to get in over your head with DIY projects. Some things seem simple but end up taking an enormous amount of time and energy for sub-par results.
Hiring a contractor to do the work takes money, but it saves you a lot of stress, time, and energy.
Here are several tips for finding and choosing the right contractor for your job.
Look at their reviews and ask for referrals. Find out what others are saying about the contractor online, and see if you can talk to several former customers in person. 

Find a contractor who understands local codes and regulations.  Permits are not required for every project, but larger home remodels may require permitting or licensing.

Know the workmanship warranty.  Most of the home materials come with a manufacturer's warranty, but make sure you know your contractor's workmanship warranty for faulty installation.

Ask for a contract. Don't give the contractor any money without having a signed contract on the work to be done.  We discuss the actual contract in more depth later in this article.

If there are multiple contractors you trust, ask several of them for a quote and compare their pricing.
No contractor is perfect, and larger home remodels often have a few hiccups or other things that need to be adjusted as the project moves along.  
However, having a trustworthy contractor on your team makes these hiccups a minor issue and results in your home renovation being done correctly.
Determine Your Home Renovation Schedule
When talking about a timeline with your contractor, it can be difficult to nail down a specific starting and ending date. 
Many contractors need a couple of months to order materials, get permits or approvals if required, and get everything finalized for the project. They also usually have a few jobs lined up before yours starts, and if these jobs go faster or slower than expected, it may change your starting date.
However, even though the starting date may vary by 1-2 weeks, you should still have a good understanding with your contractor about when your project will begin.
For extensive projects, like remodeling the kitchen or adding a bedroom, having a timeline is especially critical because you will lose some of your home's functionality while you remodel, and you'll want to plan ahead for this. 
Make sure the timeline you agree upon is realistic. You will need to consider the weather, holidays, vacations, project size, and other variables in order to come up with a realistic, achievable schedule. 
Make Sure You Understand The Contract Before Signing
Once you have your contractor chosen, make sure you sign a written contract before you give the contractor any money.
It is also critical to understand the contract and exactly what you are receiving from the contractor during the project. 
Here are a few things every contract should have:
The payment schedule. It should be clear what money is owed during what stage of the project. Also, they should not require you to pay the final balance until the project is 100% finished. 

The general project timeline. As we previously mentioned, the exact starting or ending days for a home remodel may vary by 1-2 weeks, but the contract should contain a general realistic project timeline. 

Workmanship warranty information. Make sure it is clear what the contractor will do or fix if something breaks or goes wrong as a result of their work or installation. 

The complete scope of work. Make sure it includes everything the contractor is required to do for your home renovation, and avoid generalities if possible. For example, instead of saying, "Includes laying new carpet," it should state, "Includes laying new carpet in the existing living room and new bedroom." 

What is or is not included in the price? Some contractors don't include permitting fees (if applicable), engineering fees, or other costs in their contract price. If these are not included, then you need to figure them into your remodeling budget.
The final contract will probably be pretty extensive, maybe several pages long, but a solid contract gives both you and the contractor peace of mind moving forward and saves a lot of potential stress and arguments.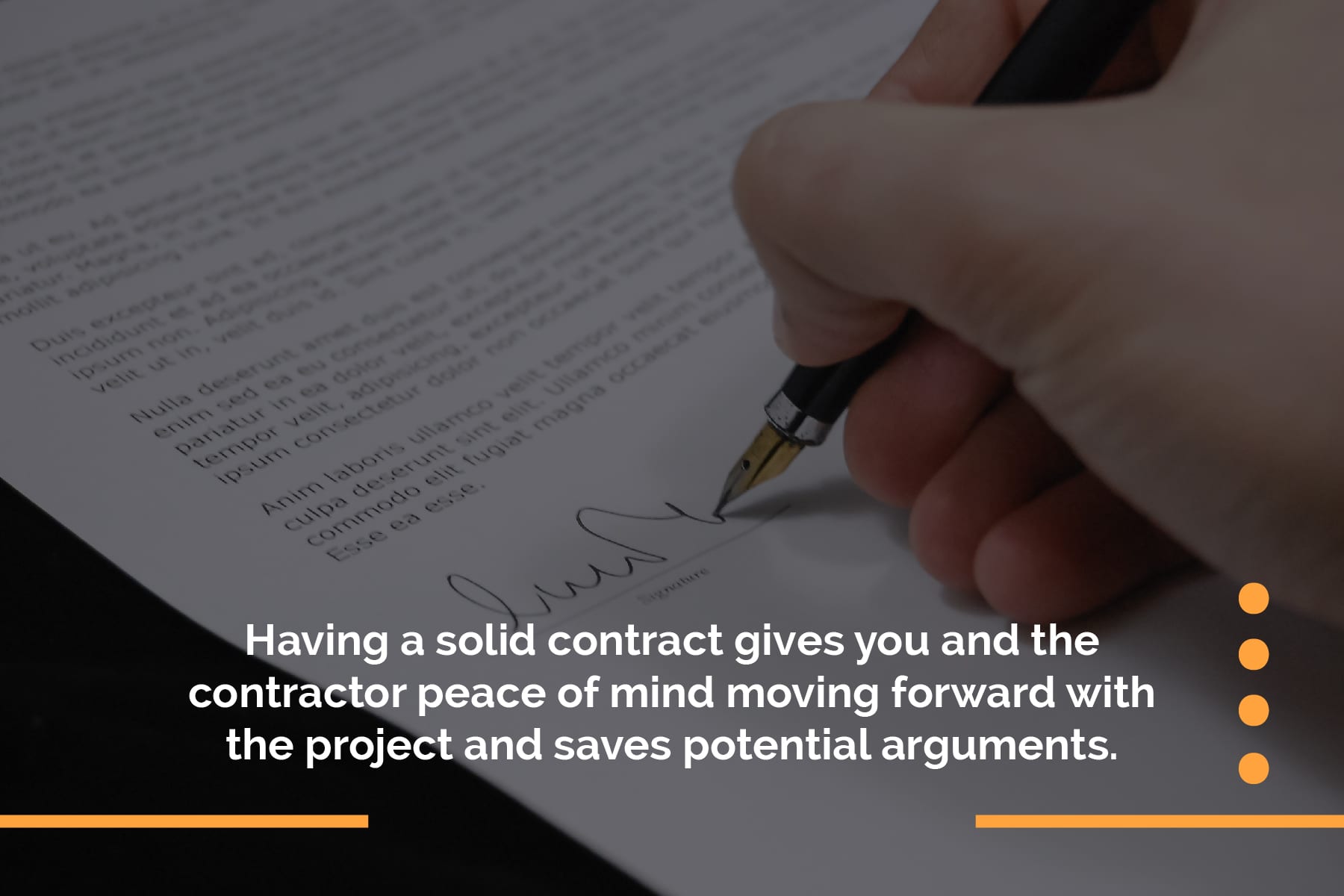 Finalize Your Renovation Colors And Style
Once you have a budget and contractor chosen, you are ready for the fun part—finalizing your layout, colors, and style! 
The contractor you work with should be able to give a lot of advice to create a final layout that works well with your existing home and is optimized for your family. 
If you hit a creative block or don't know which color schemes and styles look the best, look through helpful online guides and articles. Sites like Pinterest and Houzz are normally helpful. You can also visit your local paint or hardware store for their advice.
If you want to make sure your colors and style match and look aesthetically pleasing, you can also have a designer look over your plans and make suggestions.  
Having another set of eyes, after yourself and your contractor, look over the design helps ensure the final project will look great, meet your goals, and fit your home.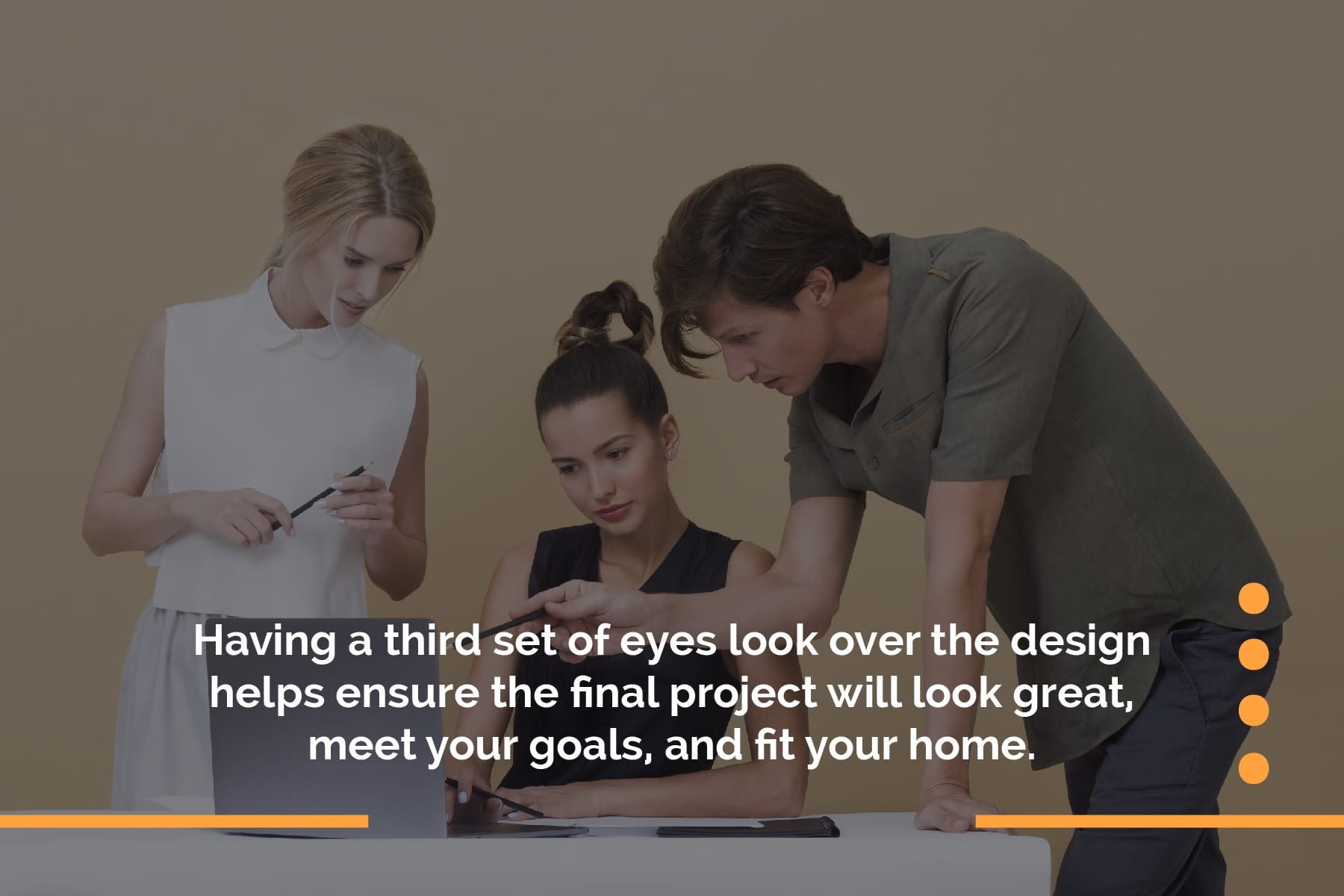 Don't Sacrifice Quality To Save A Quick Dollar
By this point in the home remodeling process, your plans are finalized, and it is time to start thinking about the materials you will use to remodel your home. 
As you work with your contractor or designer on choosing the components for your home, you will find there are lots of options spanning a wide range of quality and pricing. 
If you are working with a tighter budget, it's tempting to choose lower-quality products to save money. 
This approach isn't always wrong, but we all know that quality normally goes hand in hand with price. 
When it comes to structural or long-term value products like windows, exterior doors, cabinets, and other critical components, it is not always a good idea to go with the cheapest option. 
The goal is to find a good balance of long-term quality and value for your home that doesn't break your budget.    
Your contractor or local home-building supplier should be able to recommend products fitting this sweet spot for your home.  
If you live in north/central Indiana, contact the team at Graber Supply; we would love to help you create your dream home remodel!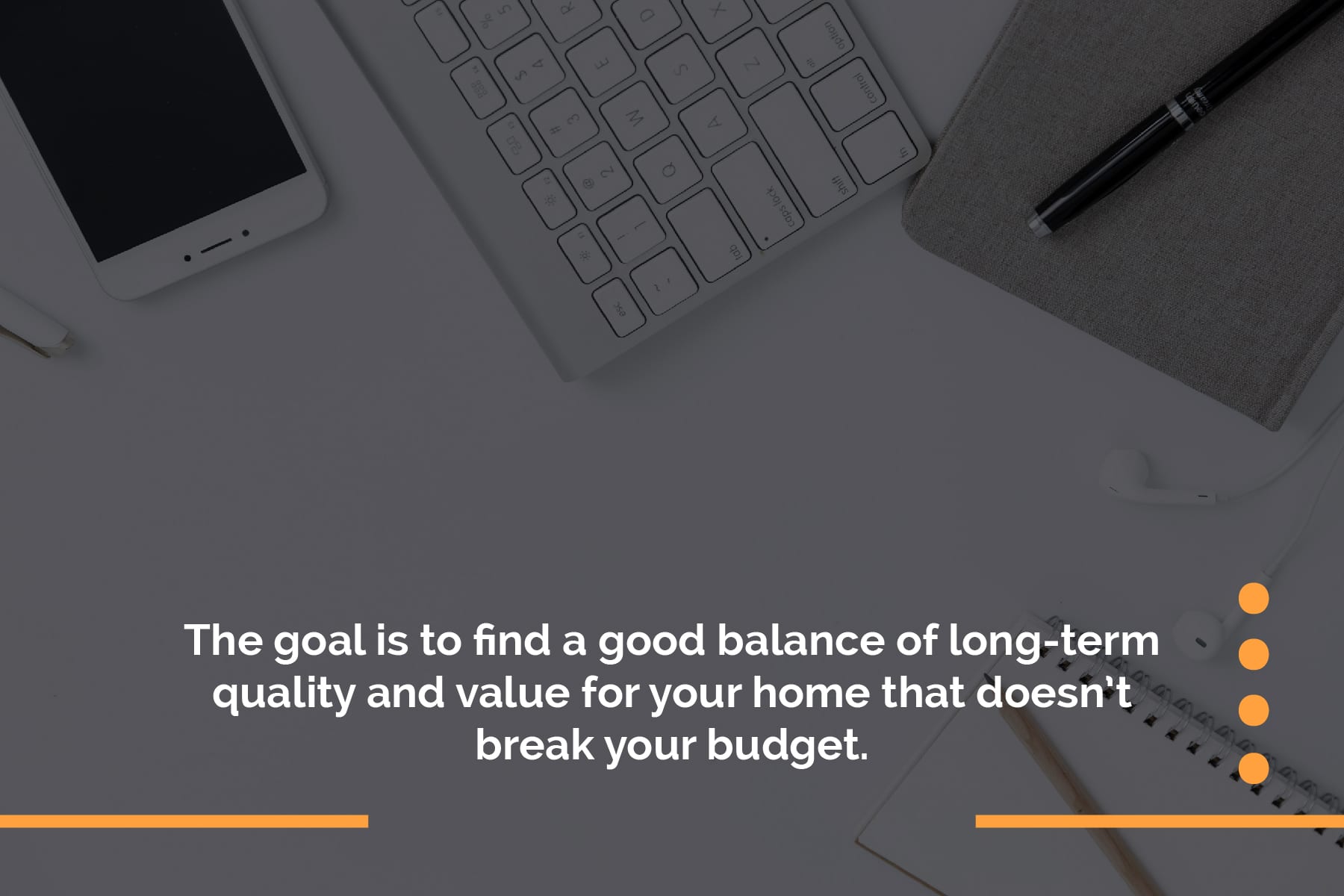 Choose The Right Home Building Materials
When selecting home building materials, keep your renovation goals and budget in mind, but also look for products that help your home and family in the long term.
What does this look like? 
Here are some general guidelines for choosing your materials:
Choose materials to

make your home efficient

; this helps save energy and money. 

Select low-maintenance products unless you are willing to put in the time to keep up with higher-maintenance ones. 

Look at the manufacturer's website, product spec sheet, and product reviews. 

If possible, talk to other homeowners who have the product in their homes. 

Talk to your contractor about his experience or recommendation with the product. 
For a more detailed breakdown of how to choose materials, we've created numerous blog posts to help you out, including: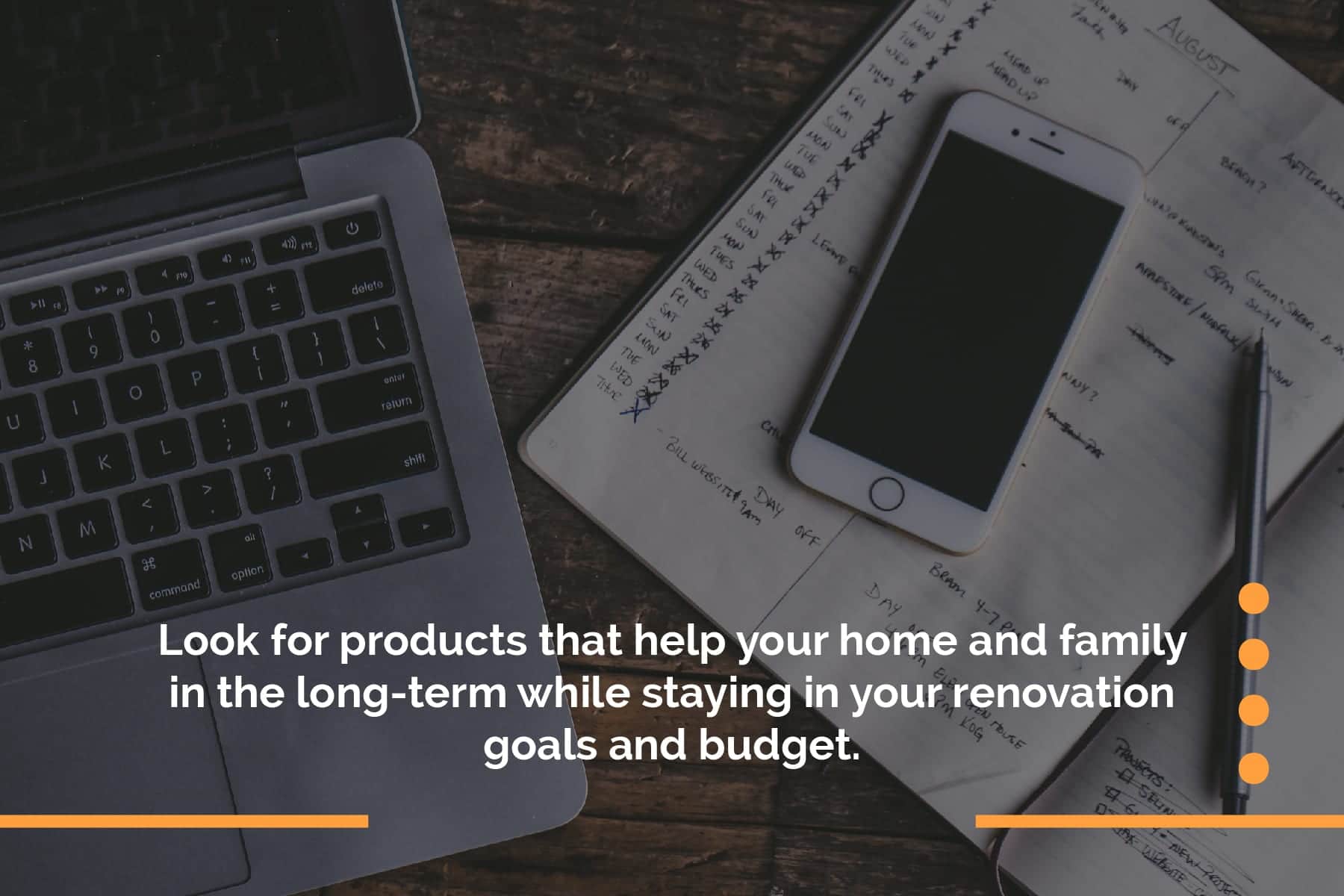 Dreaming, designing, and implementing your home remodel is an exciting time!
If you start your project with a clear purpose, and if you are willing to do the proper planning before the project starts, then your home remodel should be a success. 
If you are remodeling your home in north/central Indiana, Graber Supply would love to help you! We are experts in home products, and we work with you to make your dream home come true.
We offer a full range of quality home products that you need to remodel your home, including:
Contact our team today; we look forward to working with you!