Everything You Need to Know about Walk-In Showers
Your shower is looking a little sad. The faucet leaks, and a permanent brown stain leads down to the drain. The caulk is peeling, and the outdated wallpaper next to your shower/tub combo is starting to bubble.
The signs show that it's time for an upgrade.
You want a shower that's gorgeous yet convenient. Something sleek and spacious enough to step into with ease. You may also need a shower that caters to your specific mobility needs, such as a walk-in or wheelchair-accessible shower.
At Graber Supply, we create customizable walk-in shower kits that are gorgeous, modern, and convenient. 
Let's look at the logistics of choosing a suitable walk-in shower and installing it in your bathroom.
What is a Walk-In Shower?
A walk-in shower is one you walk right into instead of stepping over a large lip or into a bathtub. 
Traditionally, walk-in showers don't have any doors, shower curtains, or thresholds to impede you as you enter them. The floor's slope, the shower's size, and the position of the walls prevent the water from spraying out and soaking your bathroom. 
However, some walk-in showers have a door, curtain, or small threshold. Depending on your shower and the size of your bathroom, these may be necessary to contain the water in the shower. 
Still, walk-in showers are roomier and more accessible than other showers and never require stepping into a bathtub or high curb. 
When to Consider a Walk-In Shower
People put walk-in showers in their bathrooms for many reasons. Not only are walk-in showers beautiful and spacious, but some are easier to clean and can be customized to fit odd bathroom shapes. 
You'll especially want to consider a walk-in shower if: 
If your children are no longer young and you're remodeling your bathroom. While bathtub-shower combos are great for bathing babies, you'll appreciate the accessibility of a walk-in shower more and more as you get older. 

You anticipate being a caretaker for an older adult or someone with mobility issues.
However, if you plan to sell your home, remember that houses have more value if you have at least one bathtub. If your bathroom is large enough, you can have a bathtub and walk-in shower that are separate from each other, or you can put a walk-in shower in one bathroom but leave a shower-bathtub combo in the other. 
Note: if your bathroom renovation is part of a larger remodel, you may be interested in our blog post on nine things you must do before remodeling your home.
Six Walk-in Shower Design Ideas
There are so many creative things you can do with your walk-in shower! Let's go through some design ideas.
Relax in your shower by sitting on a bench in the luxurious warm spray. This is great for people with mobility issues and anyone who loves to use their shower time to relax and unwind. 
You can create a built-in seat when you construct your shower or add a separate, removable bench later. If you do the latter, choose something that won't be damaged by moisture. 
If you want a walk-in shower but sometimes like to soak in a tub, you can create a shower-tub combo without sacrificing space or mobility.
There are several ways to create a walk-in shower and tub combo. Some people put a separate tub and shower in the same bathroom but in different spots. Then you can enjoy both. 
However, if you like stepping directly from the tub into the shower, you can create a unit with a tub inside the shower walls next to the area where you shower. 
Or, you can install a walk-in bath/shower combo with a sealable door on the side to open the door, walk in, and then take your pick of bath or shower. These combos are especially nice for older folks. 
There's something fun and classy about walking straight into a doorless walk-in shower. 
If you want to go the wholly doorless and curtainless route, hire a reputable contractor and purchase a high-quality shower kit to ensure all the water stays where it belongs and doesn't soak your entire bathroom every time you shower. 
While doorless walk-in showers are fantastic, there are times when you still want a shower curtain—either for privacy, water containment, or warmth.
But don't worry; many classy shower curtains are on the market! Some shower curtains are designed to look like elegant drapes on the outside but are still conveniently waterproof on the inside. 
A curbless walk-in shower has a sleek, elegant look because the bathroom floor slopes right into the shower, with nothing to step over as you enter.
Besides looking awesome and a bit futuristic, curbless showers are convenient for wheelchair users, allowing you to pilot your wheelchair directly into the shower with no cumbersome lip to conquer.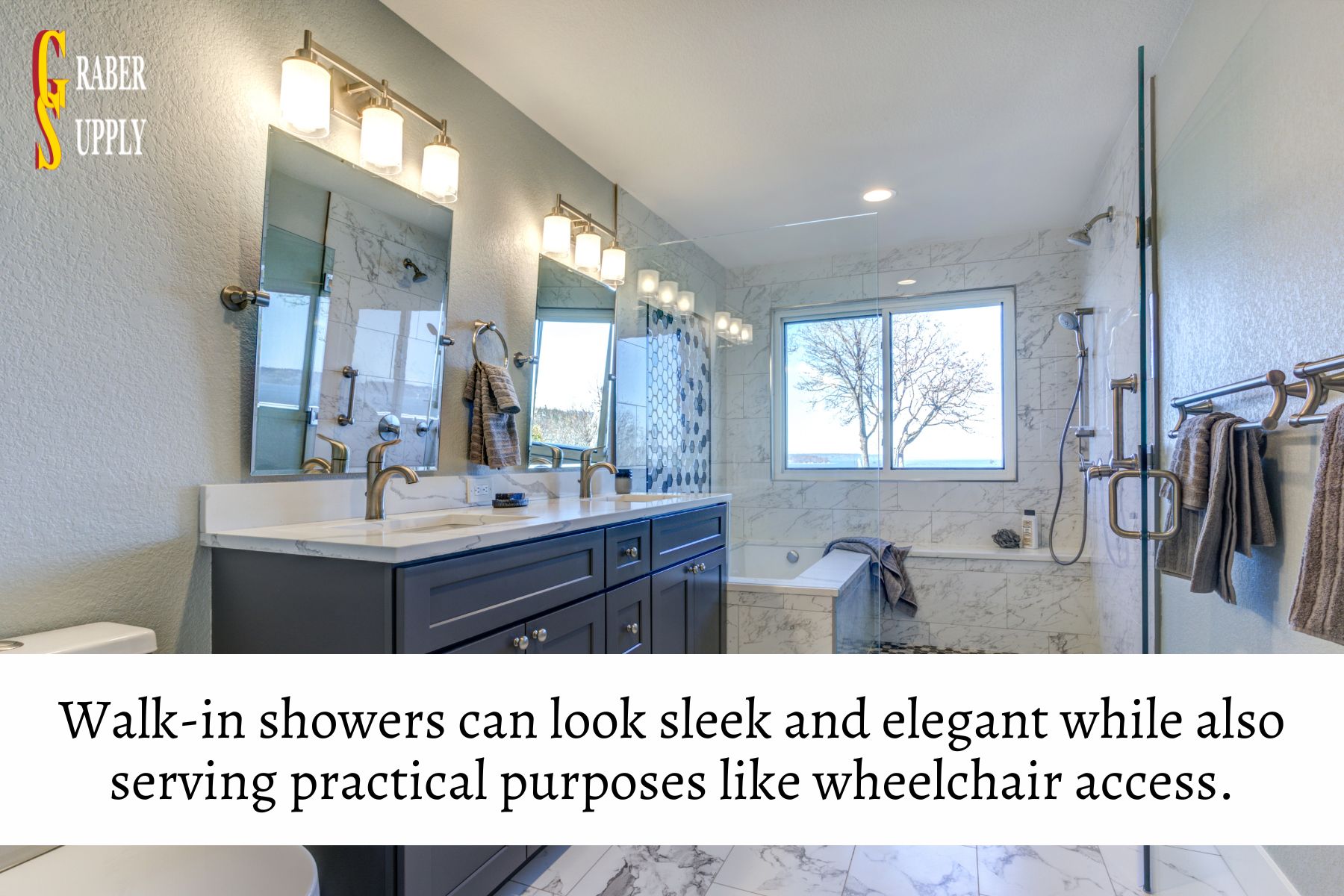 The downside to curbless showers is if you fail to install them correctly, you end up with water on the bathroom floor. It's possible to put in a shallow threshold to help control the water while still being small enough to drive a wheelchair over. In general, get an experienced contractor and a shower kit designed to be curbless or low-threshold. 
If privacy is not a concern in your bathroom, consider putting glass walls in your walk-in shower. The sleek, modern design of the glass looks impressive and opens up your bathroom, making it appear spacious and offering plenty of light as you shower.
Note: if you have hard water, you may want to skip the glass walls since you'll have to deal with difficult-to-remove hard water stains.
Three Steps to Building a Walk-in Shower
Are you interested in installing a walk-in shower? Let's walk through the appropriate steps.
Step 1: Plan and measure
How much space do you have to work with? Break out your measuring tape, and start brainstorming. If you need inspiration, try looking at walk-in shower ideas on sites like Pinterest or Houzz. 
At this point, talking to everyone you know who has a walk-in shower is a great idea. What features do they like, and what ended up being inconvenient? How easy is it to clean their shower? How are the materials holding up? Pester them with questions until you learn everything you want to know! 
It's also wise to ask who built the shower for them and whether or not they were satisfied with their contractor's work.
Step 2: Hire a contractor
Although it's possible to build a DIY walk-in shower, we don't recommend it unless you have extensive experience in construction and plumbing. If your shower is incorrectly installed, it will cause massive headaches down the road, potentially causing mold, water damage, or unpleasant maintenance. It's much better to hire an experienced contractor immediately and avoid all that headache! 
Choose a contractor who communicates well, has good reviews and recommendations, and has shower installation experience.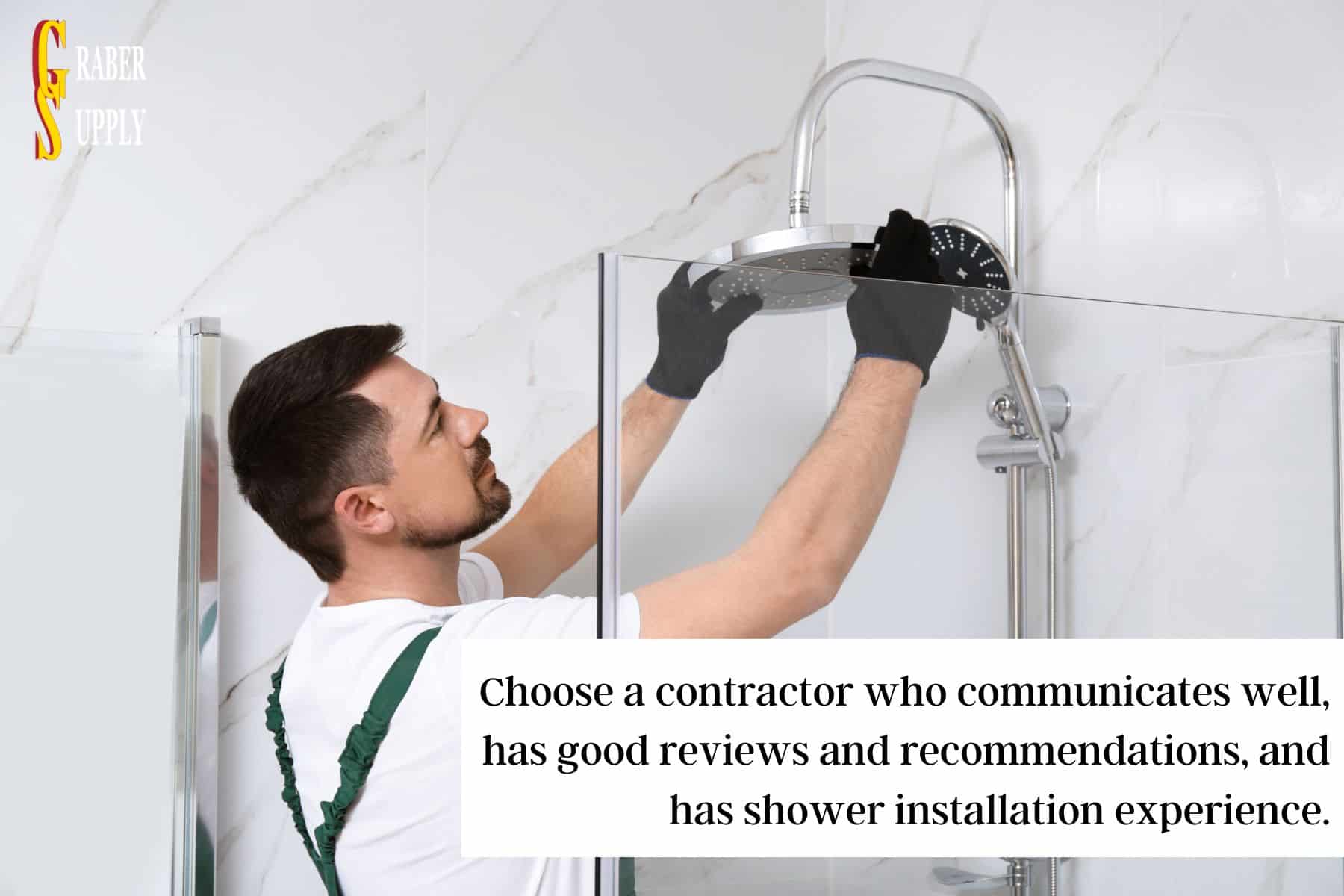 Your contractor will help you finalize your ideas, telling you what various features will cost and what will work well in your space. A good contractor can give you some invaluable advice. 
Step 3: Choose a walk-in shower kit
Although some contractors create custom walk-in showers from scratch, it's often better to choose a shower kit to ensure everything fits exactly as it should. 
You can get a shower kit customized to fit the space in your bathroom and choose its colors and features. This is an incredibly convenient and easy option because you can get the look and fit you need without worrying about choosing every little material.
Where to Buy a Walk-in Shower Kit
If you're renovating your bathroom in North Central Indiana, consider getting your walk-in shower kit from Graber Supply! At Graber Supply, we're dedicated to helping you make your home efficient and beautiful.
In fact, we offer much more than walk-in showers! If you're thinking of remodeling, we offer several helpful blog posts, such as:
Besides gorgeous walk-in shower kits, we also supply:
Contact us today to get your personalized quote. We can't wait to hear from you!